About Us
The Bernese Mountain Dog Club of Northeastern Illinois was established in 2000. Our membership is made up of Berner lovers from all parts of Northeastern Illinois and the surrounding area – breeders, exhibitors, pet owners, and individuals interested in the Bernese Mountain Dog. We all share a common interest in protecting and promoting the health and welfare of the Bernese Mountain Dog.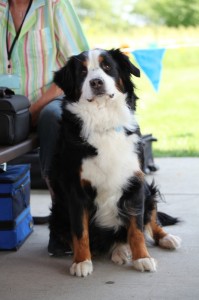 Our club activities include dog shows, obedience, tracking, drafting tests, and agility trials. All of the mentioned activities are conducted in a sports-manlike manner in accordance with the American Kennel Club rules and regulations and BMDCA draft rules. We also have several meetings during the year, which include educational speakers to benefit our members and Berners. One of our goals is to promote fellowship among our members and provide the opportunity for our Berners to socialize. We often have 20 or more Berners at our meetings, even more at our activities. It's a great opportunity to meet people, learn more about the breed and of course, meet more Berners!
For more information on upcoming club events, please refer to our events sidebar. We're looking forward to you becoming part of our Bernese Mountain Dog family.