Breed Info
All About the Breed
Bernese Mountain Dogs are striking, tri-colored large dogs.  Everyone falls in love with their appearance, but this is not a breed for everyone.  Before you decide to buy a Berner, thoroughly research the breed, talk to reputable breeders and knowledgeable owners, and get to know some of the dogs themselves.
Bernese Mountain Dogs are working dogs having a long history in their Swiss homeland, where they are used as farm dogs, guarding and driving cattle and pulling milk carts.  Their Swiss name, Berner Sennenhund, refers to the canton of Bern, where they were developed, and to the primary purpose for which they were used.  A Senn or Senner is a man who takes the cattle to the Alps in the summer and stays with them, milking them, caring for them, and making cheese.  Thus, the Sennenhund is the dog taken along on the Alpine journeys.  Today, Bernese Mountain Dogs are valued also as loyal companions, guard or watch dogs on farms and in the city, and avalanche dogs.
MORE INFORMATION
Bernese Mountain Dogs have a striking appearance with a soft, long, shiny black coat and highly characteristic markings of white blaze, chest, feet and tail tip, and rich reddish-brown "Eyebrows", cheeks, and between the white and black on the legs.  Heights ranges between 23 and 27.5 inches at the shoulder, and in weight these sturdily built dogs are usually between 70 and 115 pounds.  Their long history and purpose as farmers' companions shows well in their good disposition, love of and devotion to their people, and ability to learn quickly.  They are not kennel or pack dogs, but rather prefer human companionship.  Bernese Mountain Dogs thrive when they spend most of their day with people.
AKC BREED STANDARD

Exercise:  Exercise requirements are somewhat variable, depending on the individual dog's temperament and energy level.  Be sure to discuss with the breeder whether you prefer a "laid-back" puppy or an "active" puppy.  A minimum of 30 minutes of exercise per day and several trips outside will keep most Berners in reasonable shape.  Some Berners may require three times that amount of exercise to be satisfied.  Berners need exercise throughout their lifetime to be kept in shape.  Caution should be used when exercising puppies as "roughhousing" with older dogs can lead to permanent injuries to growing bones, joints and muscles.  Puppies need rest as they grow while they sleep.  Growing bones are soft and can be easily injured by jumping in and out of cars, etc.  Avoid jogging with, jumping, etc. until the growth plates are closed.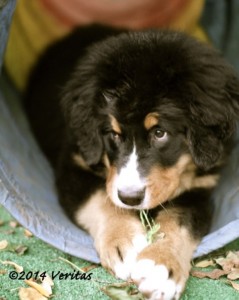 Training:  A must for all Berners is socialization and training. Puppies can be destructive of both house and yard if left to their own devices. Puppies should not be left unattended for long hours.  Puppy socialization classes
and puppy kindergarten classes are highly recommended.  Local kennel clubs or private dog training facilities offer obedience classes which will maximize a Berner's chances of becoming a well-mannered dog.  Plan to spend a lot of time training your puppy and you will benefit from it throughout your dog's life.  The Berner does best when trained with a kind, consistent hand. Hard hands and harsh training methods can easily break the spirit of many Berners.  Positive reinforcement and consistency in what is required of the dog help to develop the Berner's willingness to please.  Bernese Mountain Dogs are part of the working group and are happiest when doing a job so consider obedience, agility, rally, tracking, carting or therapy work with your Berner.
Grooming:  Berners benefit from a good brushing once or twice a week and combing behind their ears and feathering on their legs. They do shed a lot. They will shed or blow coat once or twice a year.  Bitches usually do so
after heat or litter and dogs less frequently.  A bath can be of value when the dog is shedding as nothing helps a coat blowing quite as quickly as a bath.  Then brush and comb out the dead coat so the new coat can come in. Nails should be clipped and feet trimmed frequently.  A canine blow dryer is a good investment.